Plustrust works to encourage people who make choices based on their inner voice. We are strengthened by the knowledge that there are many "people like us" who follow their instincts to reach out to others and express care and compassion in concrete terms.
Plustrust commenced activities in an informal way in 21st October 2008 and the trust deed was signed on 7th May 2009 at Hyderabad.
Plustrust is founded to honour the memory of GOWRI SUKANYA IYER (1986-2008). Plustrust will strive to live up to the values dear to Gowri Sukanya —
Compassion
A sense of fairness and equality
The courage to speak one's mind
An openness to listen to others' points of view.
These values will offer us guidance for making our choices. We will engage with the issues and challenges that inspired her.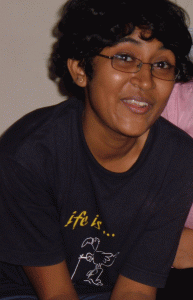 Gowri was born and grew up in Hyderabad.
Her schooling was in Vidyaranya (1991-2001) and Hyderabad Public School (2001-2003). She graduated in Arts from the Nizam College, Hyderabad ( 2003-2006) and completed her MA in Social Work from the Tata Institute of Social Sciences (TISS), Mumbai (2006-2008). She was embarking on a career in development journalism at the Asian College of Journalism, Chennai when she unexpectedly died of encephalitis.
A multi-faceted person, she was warm, vivacious, compassionate and courageous, much loved by family and friends. She had a deep interest in tribal life, and lives of the urban poor, particularly street children. She was passionate about animals and their welfare. Very creative, her passion included writing, painting, clay modelling, drama, photography and film making.
To get a glimpse of what she thought and felt please visit her blog at http://sukuspeaks.blogspot.com. In 2004, Gowri acted in a movie called 'Peas & Carrots' written and directed by Subhakar. View the trailer of the film below.
What they said of her qualities
– A good friend with a compassionate heart , very helpful and cooperative with a positive and optimistic approach, who combined goodness, with some madness, honesty and simplicity.
– A real and down to earth person and a good human being with her ruffled mop of hair and sparkling eyes, spreading so much positive energy around.
– Innocent and fearless with a different world of happiness around her and quite a solace on the campus!
And about the many things learnt from her!
– She asked me stop plastic!
– One of the few people I know who shared my craze for dogs!
– Thank you for instilling in my children a love for animals…its become so infectious!
– Thank you for being the lovely student who always challenged me.
– I loved arguing with you. You could bring out two sides of the issues and throw me into a dilemma.
– Really I learnt 'how to laugh' from you!
– Because of you I know how to live life in a critical situation.
– The way you taught me simplicity, that lesson I will never forget.
– Thank you for teaching me what life is about …..
– In Gowri's passing away students faculty staff of TISS are greatly saddened by the loss of its most promising alumnus. We pray that Gowri's soul rests in peace. We commit to carry forward Gowri's commitment to the cause of deprived and needy. – S Parasuraman. Director TISS